One of my most favorite things as a parent has been sharing generations of my family's Christmas traditions with my children while adding in new ones from the five of us. However, when I asked my kids which ones they loved the most, I was truly surprised.
You see, all of their top choices were either free or very inexpensive … truly Christmas magic. Here is our list of 12 Favorite Christmas Traditions:
1. Pajamas on Christmas Eve:
We haven't always done this, but we've been doing it long enough that the kids can't remember exactly when we started. Yes, you'll have to spend a little bit of money, but here is my tip – you don't buy actual Christmas pajamas. Instead, I buy ones that represent something my children love (Star Wars, princesses, theater, etc), which means I can buy them here and there in the months leading up to December, utilizing sales and coupons. 2 out of 3 of our kids said this is their most favorite tradition.
2. Sitting together to eat the Christmas Day meal:
Okay, this one came from our youngest child and kicked in a bit of mom guilt. It made me realize how hectic our lives have become and that all five of us rarely sit down to eat together. Of course, she is also my chef and loves how we use the fancy china and silver for our Christmas meal. This one costs you nothing as it is simply spending time together, even if you are eating PBJ.
3. Watching Rudolph (and other Christmas movies):
This one is another freebie – well, as long as you have TV and electricity, which should never be taken for granted. Our eldest loves Rudolph the most, and I learned a long time ago to purchase it on DVD in case we missed its air time. Of course, now we have it on DVR for the same reason. If those aren't options for you, your local library will usually have some options to check out, or try your best to catch it on prime time.
4. Advent calendar:
I didn't have one of these growing up, but all three of my kids absolutely love it. My mother-in-law gave us one when we only had two children. It hangs on the wall, and has the cute little padded ornaments that go on it. The kids take turns every year, and we have to have a schedule so there is no arguing about who hangs Santa on Christmas Eve. This is one of those traditions where you can choose to buy a calendar or get inventive and make your own! Either way, it will be a fun memory for your family.
5. Making snowflakes:
Our middle child reminded me the other day this doesn't have to cost a dime, as he was making a snowflake out of a fast food napkin. For this one, you can spend as much or as little as you like. The goal isn't perfection; it is the joy in doing something together.
6. Baking cookies: Once again, this one doesn't have to be fancy or expensive. Do what fits your budget. We invite my best friend and her son (whom we consider aunt and cousin) over to make cookies every year. No cookie cutters, no problem! Roll into balls or use a butter knife to make your own shapes. Even the teens still get into this one. The cookies are far from perfect, but the children have a blast, and Santa has never lodged a complaint. Here is my biggest tip for you: if you do sugar cookies from a mix, add a tablespoon of vanilla – they will taste like homemade.
7. White Elephant:
Another one I didn't do growing up, but my older children loved participating at youth group. We had a $5 limit, which makes this easy, affordable, and leads to some inventive ideas. Of course, it is almost impossible to do in 2020, but my son wanted me to include it any way. You see, last year, he received an actual white elephant statue, and he couldn't wait to regift it this year.
8. Cutting Your Own Tree: Granted, this one will require spending some money, but it is so worth the memories. Also, if you like a large tree like we do, cutting your own is actually cheaper than purchasing from a big box store or nursery. When I was little, my parents started the tradition of taking our family to a tree farm near where we spent Thanksgiving. All these years later, I live about an hour from that same tree farm, so my kids get to have the same experience. In fact, we've been going there so long that the owners put my wedding announcement up in the wreath room. Talk about making a customer feel special!
9. Ornaments:
Whether you make one or buy one, have an ornament that represents something from each year. All three of our children already have a large enough eclectic collection that they are set for the first year they need to decorate their own tree.
10. Decorating the Tree:
You've got the tree and the ornaments, now is the time to decorate it, right? This is another simple way to make some special memories. For instance, we always tease my husband not to cut any off, even though we tend to choose a 9-10 foot tree. Then, hubby puts on the lights, and the rest of us grab our individual ornament boxes. I love this special time of each child remembering who have them which ornament and what it means to them.
11. Stockings:
Our youngest told me the surprises that come out of her stocking are some of the best Christmas memories, and once she said it, the older two agreed. Santa has some staples he sticks in there – oranges, small packs of Kleenex, and chocolate – but everything else is a total mystery. And that makes pulling everything out of your stocking fun.
12. Christmas Morning Suspense:
Yep, it shocked me, too, when my kids said this was a favorite tradition. Apparently waiting with your sibling at the top of the stairs while your parents get the tree lights turned on and breakfast in the oven also makes wonderful memories. And if that doesn't tell you special traditions don't have to cost a dime, I don't know what does.
Wishing you and yours the merriest of seasons.
Ginny Thompson
buy local, Christmas, Christmas trees, farm, Foxfire Christmas Trees, local business, needle cast, small business Saturday, tradition, tree, wreath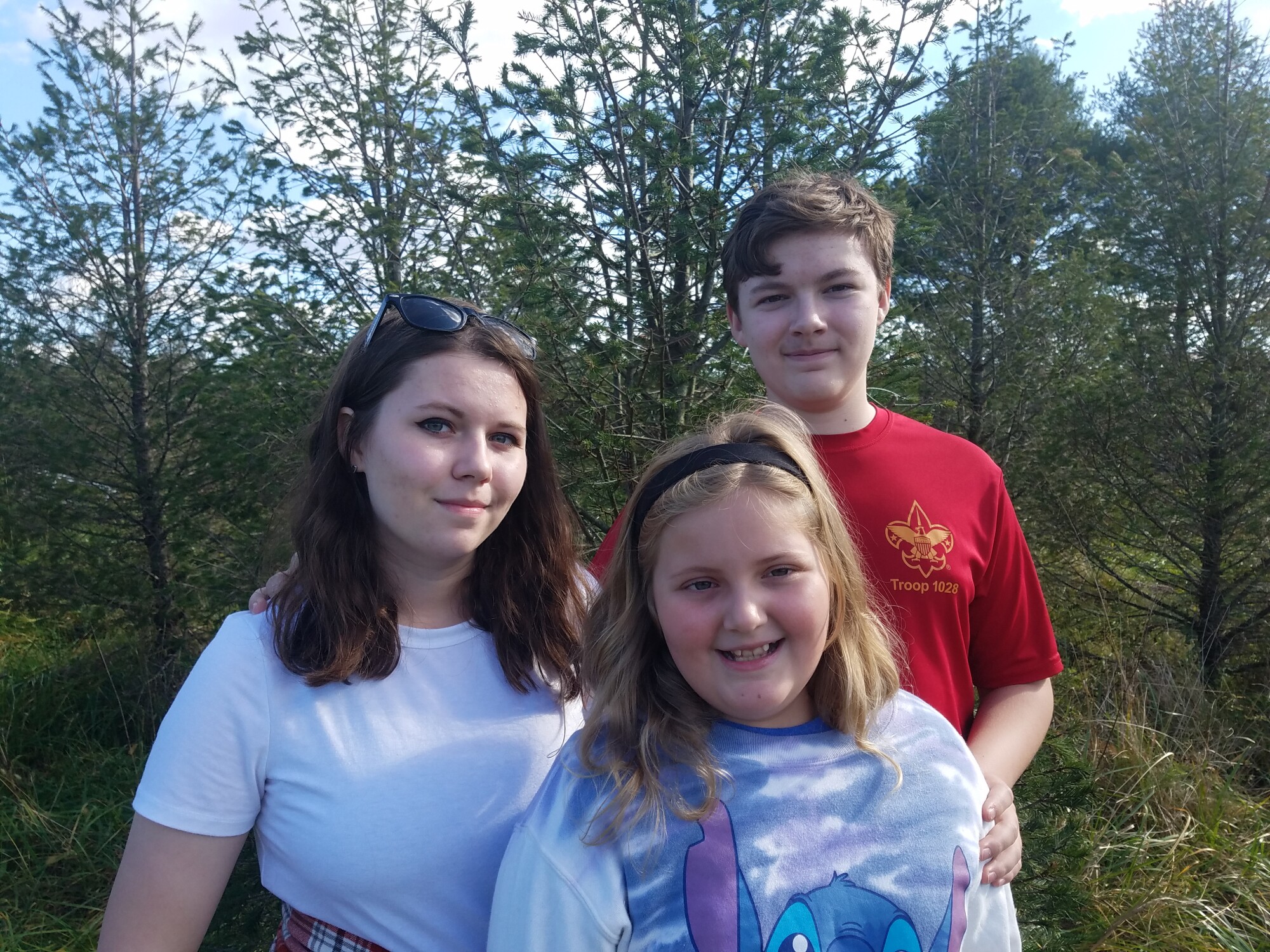 When I was a small child, my parents started taking me to a local Christmas tree farm near my grandparents' house. We would always go visit the farm on the Friday after Thanksgiving to find the perfect evergreen. Some years, they weren't even open to the public yet, but they would always let us go ahead and cut down our tree. It should come as no surprise that when I had my own children, I wanted them to experience this very special tradition.

Thankfully, my kids have loved visiting the tree farm as much as I ever did. The friendly beagles, hot apple cider, fresh pine scent, and the hunt for the perfect tree are all just as magical to them as they were to me. I know, you are thinking I'm going to say all that changed in 2020 … but it was actually 2019.

You see, the farm had a terrible needle cast problem that year. Long story short, it is a fungus that affects certain evergreen trees, causing needles to turn brown and fall off. At worst, it can completely decimate a tree, and at best, it leave you with large bare spots or limbs with few needles. We decided we didn't care and went to hunt for a tree anyway. It took some time, but we finally found one, and we still got to see the owner (who is like family), have cider, hear music, visit the shop, and we were so happy we had made the hour+ trek to the farm.

Enter 2020. We knew things were going to be different. The trees are still recovering from needle cast. The shop is closed due to coronavirus, meaning no friendly visits, no cider, no new ornaments from the Christmas shop. We were still determined, however, to support a business that means the world to us. I, for one, was not truly prepared for how badly things would look once we got there.

We saw quite a few cars leaving without trees. Once we started into the field, we heard a lot of grumbling about how few good choices there were. And I'm not going to lie, it was nothing like the gorgeous choices I've seen for four decades. The trees had beautiful, classic Christmas shapes, but they also had large bare patches and very few needles. It would have been really easy to walk away and buy a precut "perfect" tree from some store, but we decided to find a selection there no matter what.

Some people may say we settled. We prefer to think that we found the perfect tree for our family. And to be totally in line with crazy 2020, we did something we've never done before and decided to name our tree … Trevor. He may not be full of needles or really green, but he is ours, and Trevor will brighten our home with the true meaning of Christmas.

Love hearing about traditions and a focus on family? Follow here to share in more stories!